Have friends, do you like small events and like possibly earning some extra money?
WE are looking for a few more wonderful people to help us promote our little weekend event
You Will receive £10 per ticket sold in commission and even better the ticket purchaser gets £30 discount of the adult ticket price, hence theres good incentive for all
When you contact us to say you are interested, we will create your unique code which means when a person purchases a ticket its logged to your code and you earn £10 per sale
All you need to do is contact us and ask for your unique code, add the code to the little copy and paste statement about the event in the link code, this way all and any sales are logged direct to you.
We pay all commissions directly the day after the event has past either into your PayPal or bank account and will send all and any screen shots to verify your promotion sales.
We are not scammers and the event has been running for 13 years now, it's simply to help promote a small friendly event, if you would like to learn more about it simply google singing sticks
You are free to promote the event anywhere you wish IE Facebook, websites, mailing lists, groups and forums etc
If you are interested feel free to contact us direct as I'm happy to answer all and any questions
This is how it looks when when set it up:
We create your account and link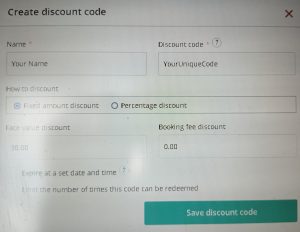 Please simply Copy and Paste the info below and add your personal code:
BELOW IS WHAT WE SEND YOU TO COPY AND PASTE:
Come and join us for a beautiful weekend performing for you at an amazing little friendly festival called Singing Sticks which is set 3 miles from Stonehenge, use the code 'ENTER YOUR UNIQUE CODE HERE' for £30 off the Adult ticket price and children under 10 are as always Free
Singing Sticks is a wonderful festival from the 15th to 17th July set in a new wonderous location and attracts people just like you that enjoy freedom to do as you please, there are also many attractions nearby if you wish to visit them.
Tents camping is included with the tickets and Campervans, caravans, motorhomes also welcome and there is also luxurious glamping options available too.
Why not come along and create some wonderful new memories and join like minded people and have some relaxation and fun!
Simply click the link below and add the discount code during checkout, please let your friends know as they might be interested in coming along too 😉
YOUR UNIQUE CODE IS: YOURNAMESS22