THIS PAGE WILL BE CHANGED FOR THE 2020 EVENT!
.
.
.
Welcome to the 11th year of the SINGING STICKS Didgeridoo & world music weekend
Everyone is so pleased that you are joining us for this beautiful and magical weekend
THIS WILL BE UPDATED SOON FOR THE 11TH YEAR EVENT 🙂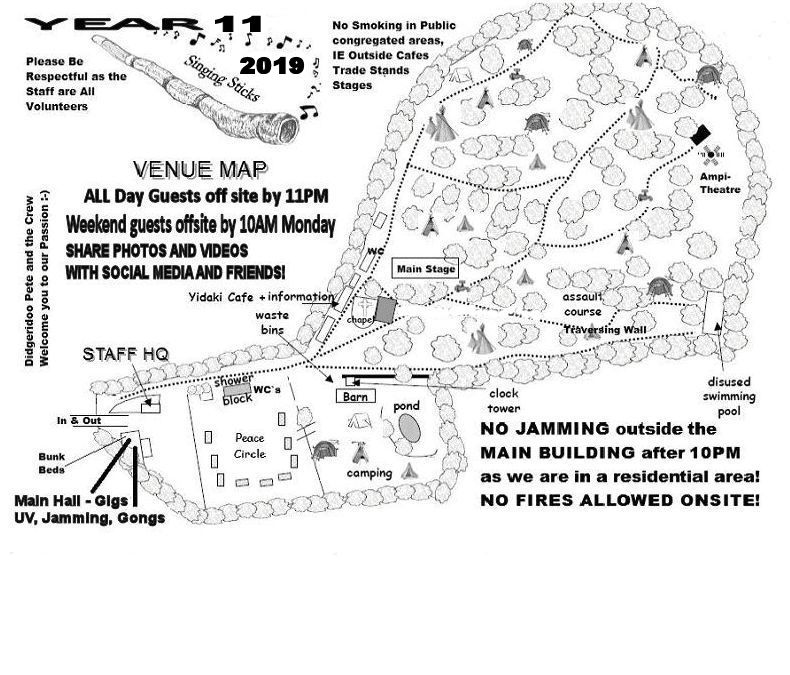 Singing Sticks MapJAMMING in the Hall only in the evenings please!! This event is primarily a Didgeridoo weekend and NOT a drum weekend! No Late night jamming round your tent or buildings after 10pm as we are in a residential area!
GLASS bottles are NOT allowed onsite!!!! Please swap the fluids into a plastic container
SMOKING do not smoke near building entrances, trade stands or public areas
DRUGS Anyone found using illegal substances will be ejected from the venue
FIRES are NOT allowed at this venue, BBQ`s, Gas cookers to cook on are ok
DOGS must be on a lead at ALL times and do Not leave your dogs mess behind!
WHATS HAPPENING?
Friday – 8.30PM Opening ceremony on the healing field ( we would like everyone to come along as it's a main part of the event! )
Open mic and music at the Container stage until 8.00pm
9pm Lots of Live Music Artists in the Main Hall
Full on Jamming afterwards
Saturday – Numerous Workshops Available ( see café boards for info )
All day open mic at the Container stage until 5.30pm
MAIN STAGE ( in the woods ) Comes to life at 6pm and closes at 11pm
11.20pm UV Time! Wear your whites and people will paint you on arrival!
Followed by Jamming
Sunday – Workshops Available ( see café boards for info )
Closing ceremony at 4pm in the healing field
Open mic at the Container stage until 5pm
5.30pm Jamming in the Main Hall
WORKSHOPS – ALL the details of workshops available will be posted outside the Yidaki Café, there are many different wonderful things available this year such as Shakti dance, sound journeys, woodland foraging, hand drumming, didgeridoo from beginner to pro, handpan playing, Native American Flutes etc etc
ONSITE YIDAKI CAFÉ: the opening times will be posted on the café doors, the café is also the information point ( Blackboards & A4 sheets )
DO NOT ASK the catering staff manning the café as they are clueless as to whats going on as they deal only with the food!!!
FIRST AIDERS: there are 3 first aiders onsite and any problems contact the staff as they all have communication radios and phone numbers are also posted around the site
TOURIST INFORMATION: Just ask staff if you are in any doubt or refer to the map
REMEMBER!! ALL the staff are volunteers and are here to enjoy themselves too
NO admittance through the gates from 12 midnight to 8am, they will be locked!
PLEASE use Facebook and other media as the weekend progresses to let your friends know how good this beautiful little event is J
TAKE LOTS OF PHOTOS TOO J
NO JAMMING OR FIRES AT NIGHT OUTSIDE AFTER 11PM